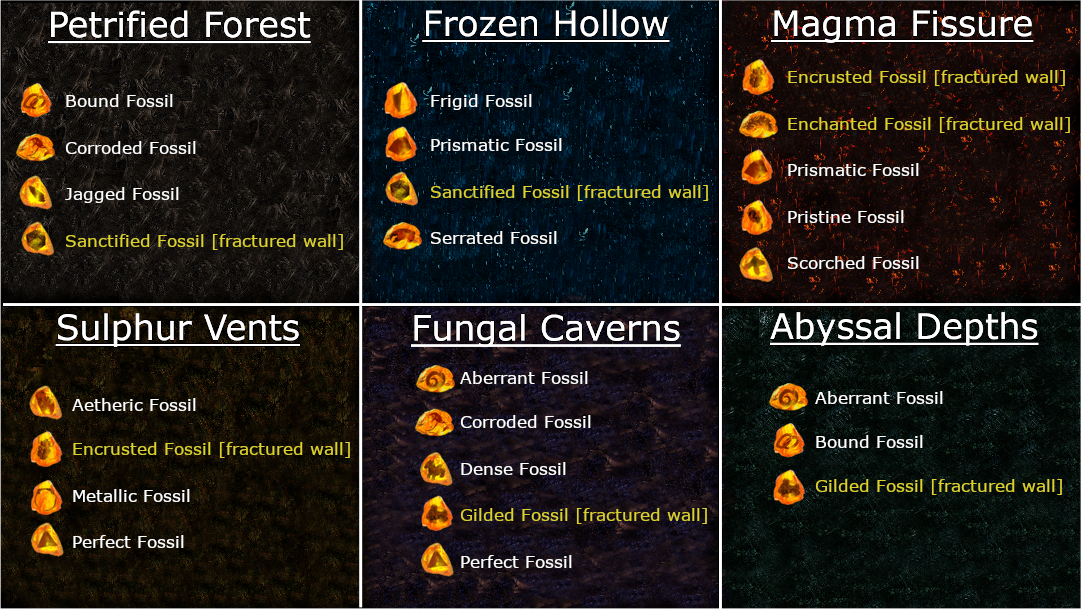 Fossil
Fossil Effect
Can be Found in these Delve "Biomes"
Aberrant

More Chaos modifiers

No Lightning modifiers

Abyssal Depths;
Fungal Caverns
Aetheric

More Caster modifiers
Fewer Attack modifiers
Sulphur Vents

Bloodstained

Has a Vaal modifier
Bound

More Minion or Aura modifiers
Abyssal Depths;
Petrified Forest
Corroded

More Poison or Bleeding modifiers

No Elemental modifiers

Fungal Caverns;
Petrified Forest
Dense

More Armour, Energy Shield or Evasion modifiers

No Life Modifiers

Fungal Caverns
Enchanted

Has a Labyrinth Enchantment

Magma Fissure[Fractured Wall]

Encrusted

More sockets
Can have white sockets

Magma Fissure[Fractured Wall];
Sulphur Vents[Fractured Wall]

Faceted

More Socketed Gem Level modifiers

Fractured

Creates a mirrored copy
Frigid

More Cold modifiers

No Fire modifiers

Frozen Hollow
Gilded

Item is overvalued by vendors

Abyssal Depths[Fractured Wall];
Fungal Caverns[Fractured Wall]

Glyphic

Has a Corrupt Essence modifier

Hollow

Has an Abyssal socket
Jagged

More Physical modifiers

No Chaos modifiers

Petrified Forest
Lucent

More Mana modifiers

No Speed modifiers

Metallic

More Lightning modifiers

No Physical modifiers

Sulphur Vents
Perfect

Improved Quality
Sulphur Vents;
Fungal Caverns
Prismatic

More Elemental modifiers

No Poison or Bleeding modifiers

Magma Fissure;
Frozen Hollow
Pristine

More Life modifiers

No Armour, Energy Shield or Evasion modifiers

Magma Fissure
Sanctified

Numeric modifier values are lucky
High Level modifiers are more common

Frozen Hollow[Fractured Wall];
Petrified Forest[Fractured Wall]

Scorched

More Fire modifiers

No Cold modifiers

Magma Fissure
Serrated

More Attack modifiers
Fewer Caster modifiers
Frozen Hollow
Shuddering

More Speed modifiers

No Mana modifiers

Tangled

Can have any Fossil modifiers
NOTES:
Green Highlighting Indicates a fossil which typically sells for an amount that is significantly higher than most other fossils.
Yellow Highlighting indicates a fossil which must be found behind a Fractured Wall. They can ONLY be found behind them.