Want to go AD free? Become a Patron today!

I – Introduction
The Incursion league introduced Alva Valai and the Temple of Atzoatl.
She transports the player back into the past to find the lost Vaal Treasure Temple of Atzoatl. By spilling more Vaal blood, your time in the past can be extended. When the incursion ends, the items that the player earns will shower at their feet in a circle around Alva. Changes made in the past will affect the temple ruins in the present day, so unlocking doors in the past will allow access to these rooms in the present day Temple. Killing Vaal Architects will allow the player to upgrade or change rooms in order to remove rooms with disadvantages and replace them with more rewarding ones. The player will only be able to travel back in time 11 times before the Temple can be activated. Once the player has looted the Temple, you can return to Alva and start an entire new Temple.
II – INCURSIONS
When the player encounters Alva, she will show a minimap of the current Incursion, the Temple progress, and how many incursions are remaining. The Golden Outline around the room in the Temple, indicates where the current Incursion is taking place.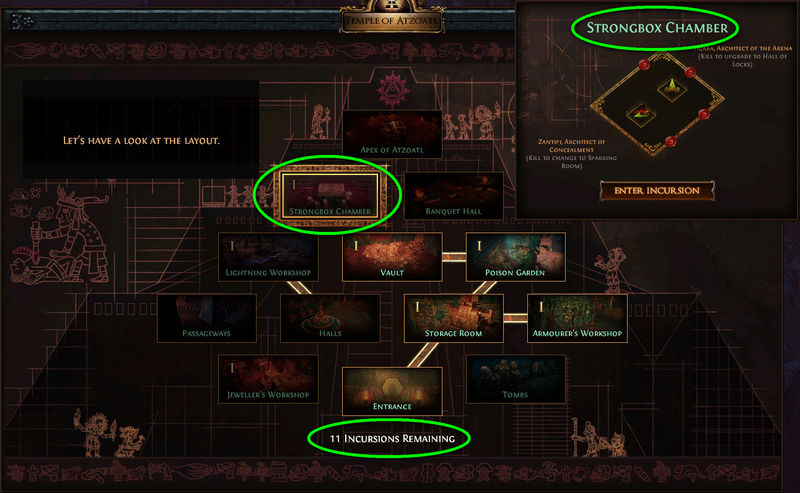 The top right corner shows an in-depth map of the current Incursion.  Each "Red Dot" indicates a door. Where each door leads to can be better understood by hovering the mouse over each red dot.  This will tell you which room that that door connects to. When hovering over a door, the room that it attaches to will be shaded a lighter color on the Temple map.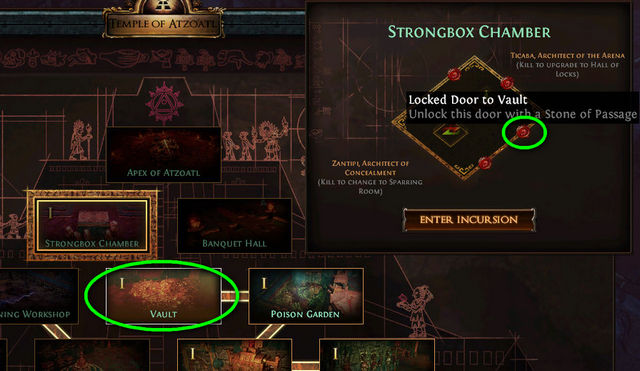 From here, the player will now need to decide which Architect to kill in order to change the outcome of the Temple to their liking. When hovered over the Architect, it will tell you more in-depth what each Architect's outcome is.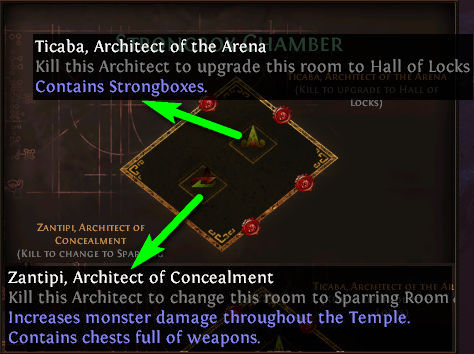 Once inside the Incursion, the player will have an initial 10 seconds and gain more time as monsters are killed. While killing monsters and battling one of the Architects, you will have to find a Stone of Passage. This will drop randomly off one of the monsters and is used to open doors within the Incursion. Sometimes more than one can drop.


III – Tips and Tricks
Incursions deal a substantial amount of Chaos and Physical Damage. Here are some ways to help mitigate these damages.
Chaos Damage
Amethyst Flask – Grants 35% Chaos Resistance during Flask Effect. This Utility Flask that can be found easily or bought for cheap. An alternative to this flask would be

Atziri's Promise Amethyst Flask

.

Ming's Heart

– Increases Chaos Resistance by 49% to 63%. This unique ring is particularly useful to use due to its high amounts of Chaos Resistance, but comes with a cost of reduced Maximum Life and Energy Shield. It can also be bought for rather cheap, making it an easy item to acquire.

The Broken Crown

– Increases Chaos Resistance by 43% to 61%. This unique helm comes in second place in terms of having the most Chaos Resistance on an item. The Broken Crown is also the cheapest and easiest to acquire.
Purity of Flesh – Increases Maximum Life and Chaos Resistance. This is a cluster of nodes that can be found between the Templar and the Witch in the skill tree.
Soul of Shakari Pantheon – Grants 5% reduced Chaos Damage. This is very important when trying to mitigate Chaos Damage.
"of Curing" – Flask mod that removes Poison and grants Poison immunity during flask effect.
Spell Damage Mitigation
Useful Items
General Rule of Thumb.
Killing monsters increases time.
At least 1 Stone of Passage drops per incursion.
Upgrading a room is not always the best choice.
Know which boss to kill before entering an Incursion.
Skipping Alva does not skip that Incursion. It will be the same Incursion on the next time that you encounter Alva.
Map Mods DO apply to Incursions and can make them very difficult.
The Incursion bosses have a considerable amount of life.
Damaging the Architect increases time.
IV – List of all Incursion Rooms
V – Valuable Rooms to Farm for
VI – THE TEMPLE OF ATZOATL
The Temple of Atzoatl is a conglomerate of 11 rooms, an entrance, and a final boss room. Every Temple is different based upon how the player upgrades their Incursions.
 VII – Tips and Tricks
Here is a compiled list of some precautions one should consider before facing this challenge.
VIII – Temple Item Level
The item level of a temple is based on the average of all tiers ran + 4. This only covers up to a maximum tier of map ran during the 11 incursions. So, if it was all tier 1's that were ran, then it would be no higher than tier 1.
Tip
Run 10 T12 maps and 1 T16 map to get a T16 Temple
 IX – THE VAAL OMNITECT
The Vaal Omnitect Boss information can be found HERE.
Thank you so much Engineering Eternity and Ghazzy for contributing to this guide!
 See a mistake or want to add something? Leave a comment!
Help us make this the best possible guide for new players.
Missing information? Contact us!   –   Enjoying the content? Support us!