Want to go AD free? Become a Patron today!

Introduction
Niko the Mad
Voltaxic Sulfite
Azurite
Introduction
"Left untouched for over 250 years, the Azurite Mine has been consumed by a malevolent darkness that cast out the Eternal Empire. Niko, an inventor, has harnessed the power of Voltaxic Sulphite to create a machine called the Crawler that can pierce the darkness."
The Azurite Mines were introduced into POE in 3.4 and added into the core game in 3.5.
Niko the Mad
Main NPC for the Azurite Mines.
One of the Masters
Sells Resonators

Voltaxic Sulfite
Found from Act 4 and on
Used to power Niko's Crawler
Sulphite can spawn 1 to 3 caches within an instance
Deeper Delves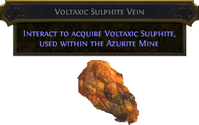 Azurite
Main resource of The Mines
Can be found along paths in small quantities
There are 3 different rooms that contain large deposits of Azurite. Each one of these rooms can have a tier from 1 to 3, 3 being the highest.




Azurite can also be found in Azurite Veins and Fissures. These typically contain small amounts found along pathways. It is primarily used on the Voltaxic Generator to upgrade The Crawler.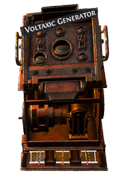 Darkness
Fossils
Fractured Walls
Hidden Path
Biomes