Gauntlets and Puzzles
In the lab there are optional objectives that players can complete. These objectives range from additional trap gauntlets to puzzles. Taking the time to do these extra objectives will reward the player with either a labyrinth trove or an extra treasure key in a curious lockbox. For solutions to these puzzles check the puzzle solutions page
Floor Puzzle
Escort Gauntlet
Trap Gauntlet
Switch Puzzle
Cheat Sheet

Floor Puzzle

The Floor Puzzle looks complicated, but its just as simple as follow the pattern. This puzzle involves stepping on the tiles in a specific order. The order of the tiles is determined by the order they show up going towards the initial locked door. In the example images below the order would be lightning, cold, fire and cold.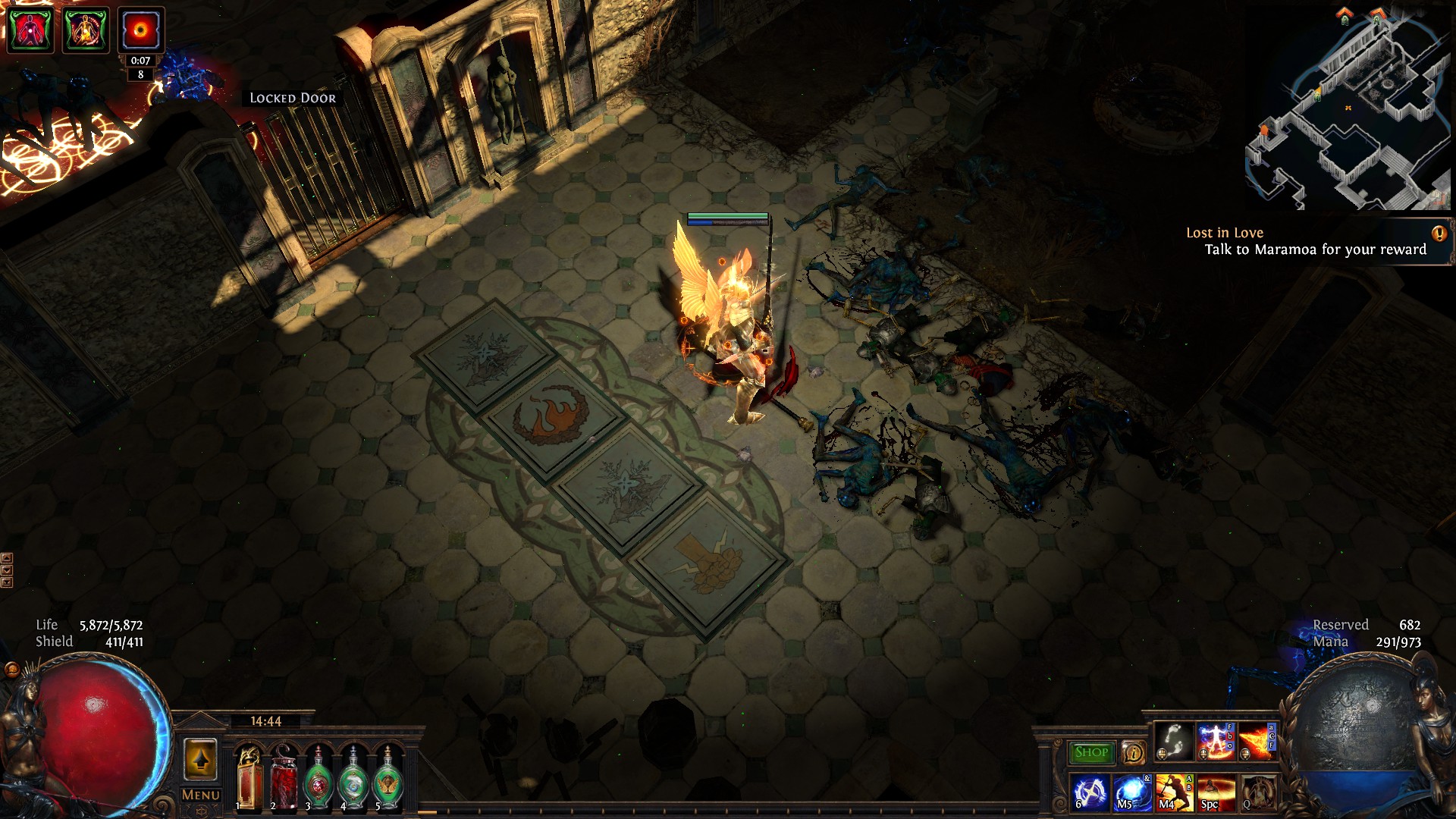 Follow that pattern throughout the rest of the tile set on the floor and work your way to the end where the reward is. Hitting the wrong floor switch will trigger a series of poison darts to spawn.

DO NOT FREAK OUT WHEN YOU STEP ON THE WRONG TILE! If you do, you might step on more wrong tiles resulting in more darts potentially killing you.
Escort Gauntlet

This gauntlet involves escorting a totem through traps and enemies in order to unlock the reward. In order to move the totem the player needs to stand in the glowing circle around the totem.
Trap Gauntlet
These extra trap gauntlets are much shorter than the regular trap gauntlets that players need to navigate. At the end the player will have access to the reward.
Switch Puzzles
This puzzle has a few versions. The font switch puzzle involves interacting with fonts that will either open or close themselves and in order to unlock the reward all fonts must be closed. The gear switch puzzle involves hitting switches in order to make 6 gears move and unlock the reward.