We get this question quite often! "Good" is a very loose term. No two builds are identical and every build performs differently. Knowing what is good and what to look for can make all the difference when it comes to farming or completing your Ascendancy.
The Phases
When looking for a "good" labyrinth, the first thing to look at are The Phases.
Some are easily encountered, while others can be very difficult. Stay away from Charge Disruptors and Gargoyles, these tend to be the most difficult for players.
The Length
The second thing to look for is the length of the labyrinth. The shortest labyrinth possible is 6 rooms. This is not including the boss rooms. Typically 8 or less is a good recommendation for a quick labyrinth run.

Darkshrines, Guantlets, and Puzzles
The last thing to look at are the darkshrines, guantlets, and puzzles. These can be very profitable when running the labyrinth. Typically you are looking for all 4 darkshrines or all 4 gauntlets along the main path. When these appear off the main path, it requires the player to take inconvenient detours that deviate from the quickest path for the lab. These small amounts of time can add up, if players intend on farming the lab many, many times that day.
Example Labyrinth
Below is an example of a relatively good labyrinth. It is 7 rooms long with 4 darkshrines, 3 gauntlets/puzzles and Argus along the main path. While the Idols phase requires players to wait in order to get an extra key, the Izaro fight is easy as none of the phases directly give Izaro damage. All together the labyrinth is short, Izaro is easy, and Argus as well as the majority of the gauntlets, puzzles and darkshrines are along the main path.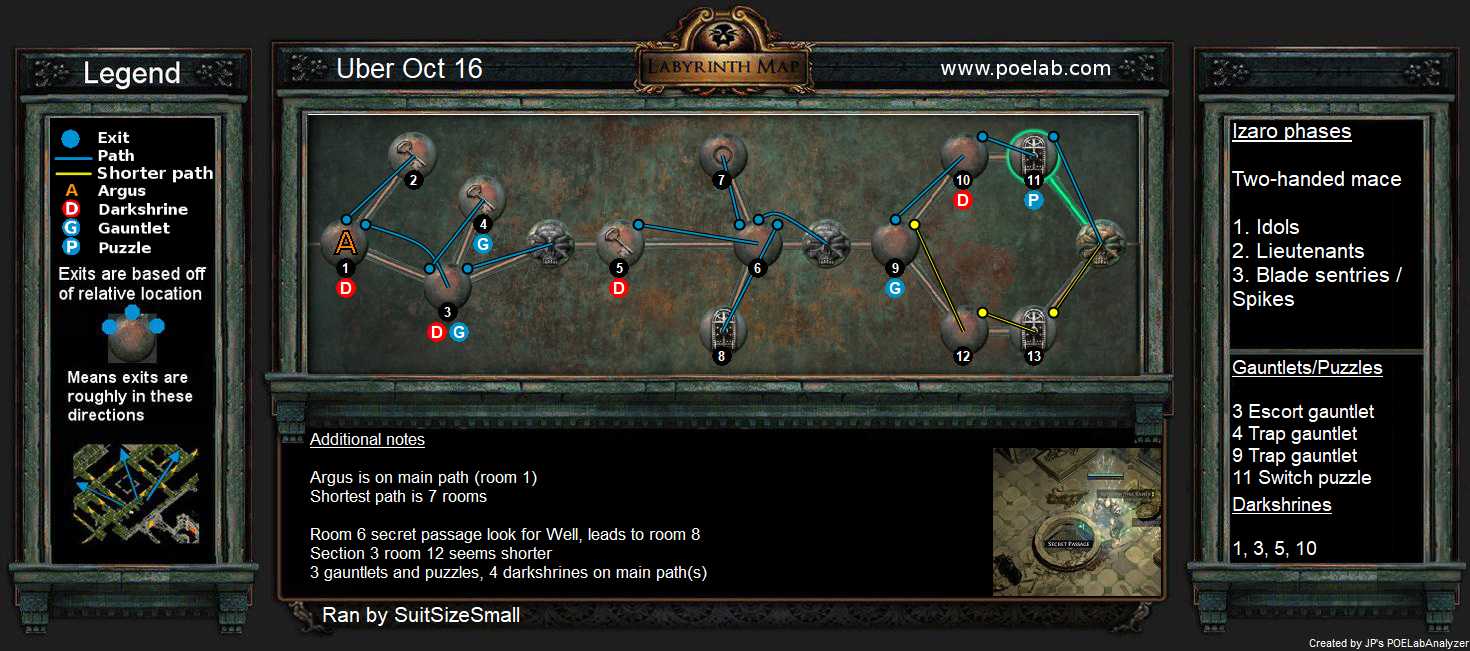 If you found this guide helpful, and would like to support POELab and our efforts to make more resources like this, you can check out the Support Page.